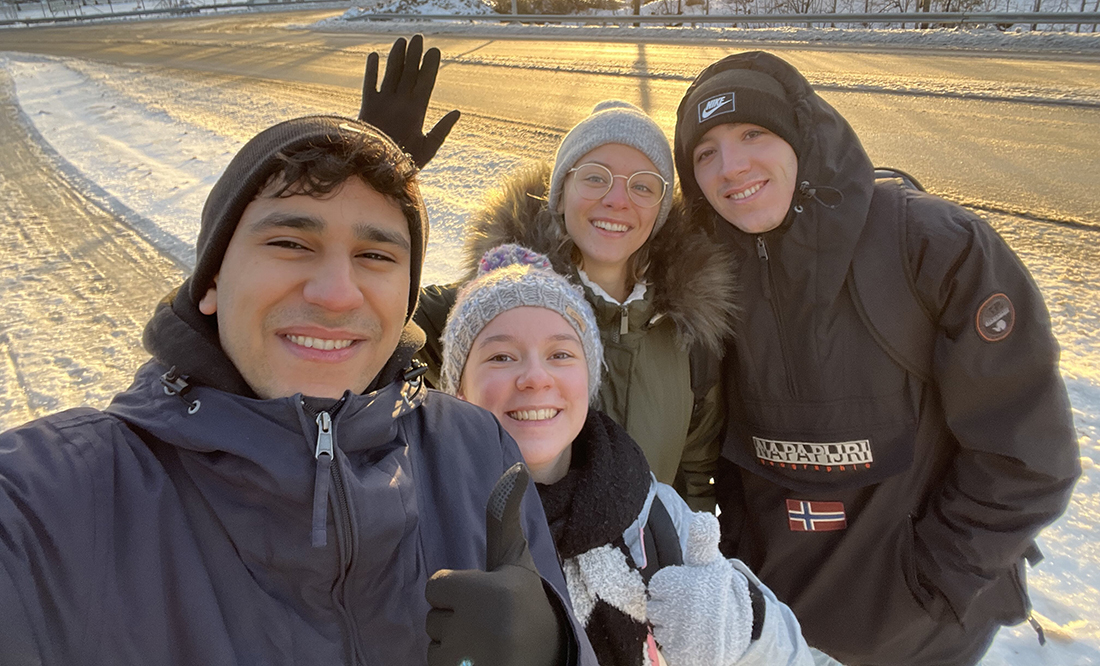 Hi everyone, I'm Yassir, I'm a 21 years old guy who moved to France when I was 15 years old to study in this country. Nowadays I am in my last year at the university before graduating, and I'm studying Applied Foreign Languages at Clermont University in France.
For the last semester it was mandatory to have an experience abroad to improve our language skills, and since the first year at the university doing an Erasmus was one of my studying plan. At first I was supposed to go to Moscow, Russia because I was studying Russian, but ended up Finland and more precisely the city of Rauma.
So I left for Finland on January 1, 2022, right after celebrating New Year's Eve with my loved ones. My arrival was quite complicated for several reasons, in fact once I landed in Finland I had to adapt to a lifestyle completely different from the countries in which I had already lived.
The biggest complications I had to adapt to were the freezing temperature, the long nights and the ice on the road that made slipping very easy.
Plus when I arrived at my apartment a surprise awaited me, many things were missing from the apartment such as a pillow, blanket, or even kitchen utensils. Consequently the day after my arrival I had to go out to do some shopping, and buy everything I would need.
The problem was the amount of stuff I had bought and I didn't know how I was going to transport everything to the apartment which was about a 30 minute walk away. Luckily a sweet Finnish woman offered to drive me home and save me from carrying all the groceries.
This is the experience that marked me the most at the beginning of my experience because it represented the difficulties we encounter when we find ourselves in a country we don't know, with a completely different language and a different culture.
After the initial difficulties I began to acclimatize to life in a Nordic country, I began to visit the city.
The activities I enjoyed the most were walking on the frozen sea, and discovering the country's cuisine.
I also had the opportunity to visit a big city near Rauma, the city of Turku.
This city I found very nice and cozy, and since I prefer bigger cities I found it very comfortable.
During my free time I tried to learn how to ice skate, an activity that even children practice in Finland. Unfortunately I am not sure that I completely learned how to skate but it was fun trying to learn with other Erasmus students.
My biggest regret was leaving during the health crisis and not being able to do the complete Erasmus experience. But I am glad I was able to visit a country I never thought I would live in, and to have been able to study in a Finnish university that are known to be the best in the world. I really liked the school system, the way of teaching that alternates theory and practice is really interesting. Plus the fact of being much more autonomous than in the French universities allowed me to mature from a personal point of view.
It was definitely challenging for me to go through the initial weeks, however I learned so much about myself and it also helped me develop in so many different ways. I never thought I would be able to overcome these challenges on my own.
I'm glad I was able to have this experience that I recommend to anyone, it's an experience that allows you to measure yourself, and is very beneficial for the future.
Every now and then I still think about my walks over the snow, the falls I took while skating, or the hot chocolates I made to warm up. And I consider myself fortunate to be able to tell my family and friends about this experience and memories that i will always cherish.
Text: Yassir Lahmadi
Image: Yassir Lahmadi