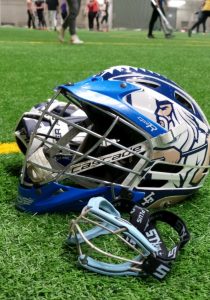 I knew very little about lacrosse before we were asked to do a project about it for the students of Rauman lyseon lukio. I had only seen it played a few times in an American TV-show in fact. So, this project, in cooperation with students from SAMK and from Rauman lyseon lukio, gave me the opportunity to learn not only about how to put up an event but also about this sport.
Lacrosse is one of the oldest sports in the world having roots with the native Americans. It is a contact game played with sticks that have a net in the end. The object is to throw the ball into the opponent's goal and score more goals than the other team. It is also the national sport of Canada.
Rauman lyseon lukio has a partner in Canada and they wished to learn something about the country before their study trip there. What better way than to try the national sport?
A chance to try lacrosse
We started our project with a short promotion event at the school in Rauma where we had some information available about the sport and the event in order to get the students interested. Lacrosse is not that well known in Finland and many have no idea what it is about so we thought some basic information would be useful. The main event was held in the football hall in Rauma and lasted one and a half hours. There were about 25 students present.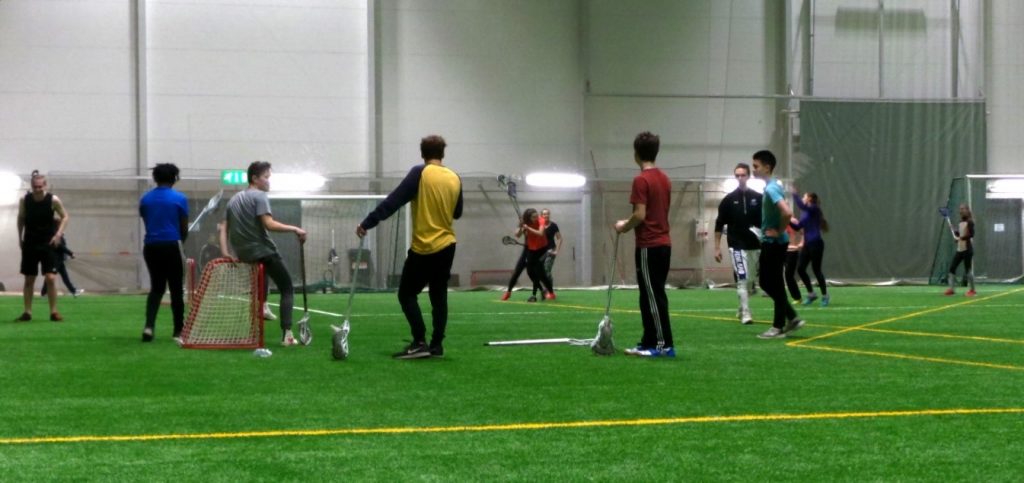 The equipment and instruction were provided by Markus Mattila, a 25-year old lacrosse player from Turku Titans. He has played the game for 9 years and said he started like most Finnish lacrosse players start, he changed games from hockey to lacrosse. He instructed the students with some exercises on how to use the lacrosse stick and how to throw the ball. Everyone got to try some moves and have fun.
Interviewing the instructor
While the students were trying some moves, I had a little interview with Markus about his hobby and future plans. I asked how long he has played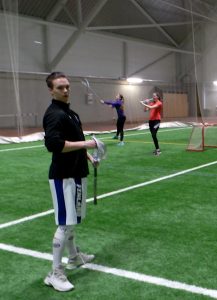 and how he got interested. He told me that lacrosse players in Finland start pretty late, usually around 16 to 18 and often after having played ice hockey. Some hockey teams play lacrosse during the summer season and players who for what ever reason can't continue with hockey sometimes change games to lacrosse. Markus said he turned to lacrosse when continuing hockey would have required him to move.
According to Markus lacrosse has been played in Finland since 2001 and we have men's league, women's league and junior league. The popularity of the sport has been growing over the years. The Finnish Lacrosse Association lists six lacrosse clubs. But quality over quantity. Finland is doing quite well internationally in the sport. The men's national team has gotten third in the European championships in 2016. 2018 World championship games were held in Israel with 46 countries and Finland coming up as 15th. Finland has also hosted the European championships of box lacrosse in 2017 in Turku. Box lacrosse is the indoor version of the better-known field lacrosse.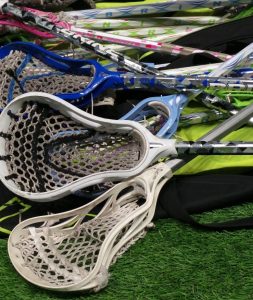 Markus is going to Canada for the summer to play lacrosse and has interest to play professionally. It's a long-term plan, he says, and we will wish him good luck for that future. The box lacrosse world championships are held in Canada in autumn 2019 and according to Finnish Lacrosse Association webpage Markus has been chosen as the team captain.
Our main goal was to give a fun opportunity for the students and learn about organizing an event and I think we achieved that.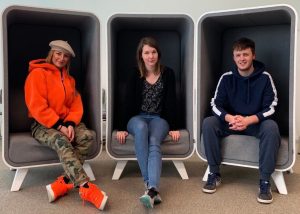 Text: Ira Heino
Pictures: Ira Heino & Sam Robinson
This project was a part of our studies in the degree programme in International Tourism Development. We had three members of our class working on this with two students from Rauman lyseon lukio. All three of us are first year students and the project was related to our course about event management. These kinds of projects are a fun and a practical way of learning, and in SAMK we do projects starting right from the beginning of our studies.