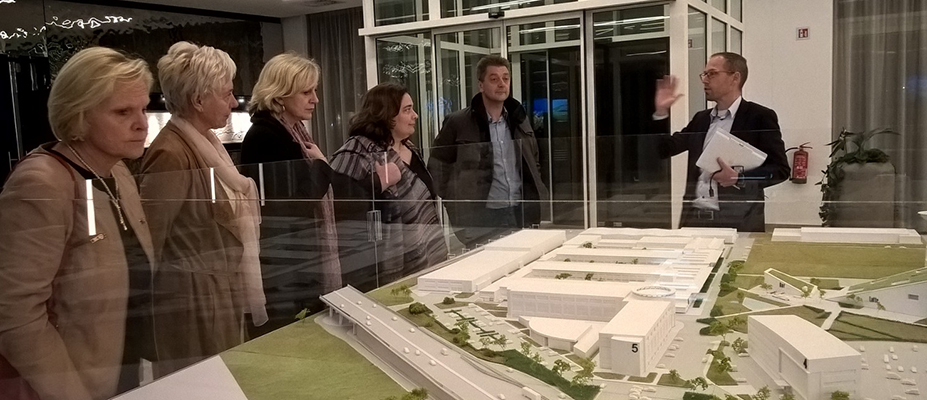 The first International Week 10.–14.10.2016 in PXL University College in Hasselt, Belgium offered not only information but experiences from local chocolate factory to Corda Campus.
I was honored to get invited to Hasselt to lecture about communication by Mrs. Brigitte Luyten, PXL international relations coordinator. SAMK has a bilateral agreement with the college and I have co-operated with her before ­­­in student projects.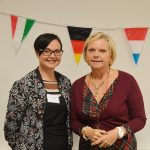 Lecturers were called in not only from Finland but also the Netherlands, Portugal and France. The program of the International week was aimed to the media students in PXL department of media and tourism. Lectures had two type of contents. Professional lectures offered information about visual communication in business, woke up discussion about corporate's social responsibility and presented challenges in different types of communication. The other lectures gave information about student exchange and international internship.
Commuting and communicating
After driving car for 3.5 hours, flying 2.5 hours and sitting in a train 1 hour instead of a supposed half an hour I arrived in Hasselt. Train was late and I heard it is very common for Belgian Railways nowadays.
It was Monday evening and after checking into my hotel I joined colleagues at the dinner in the restaurant close by. Two of the teachers had already had their first lectures and we discussed about their impressions and experiences so far.
My lectures were on Tuesday and Wednesday and I was a bit surprised when I realized that there was a local lecturer watching after students in the room.
The lecturer walked around and gave students notice it they were surfing with their mobile devices instead of listening.
The content of my lectures included visual communication and its many aspects like culture, semiotics, psychology, ways of interpretation, design and management. I had a chance to introduce some Finnish brands to the Belgian students at the same time. The brand example that invoked a lot of discussion was the historical Love Records logo. It was my example of decency in logo design and question was: is it decent or not.
Fair trade chocolate at Boon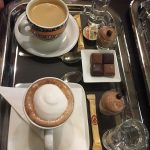 Belgians are very proud of their chocolate. No wonder that in Tuesday afternoon Mrs. Luyten took us to the local chocolate factory Boon for coffee. Boon's slogan is "So much chocolate, so little time" and it's very describing! With every drink – no matter if it's coffee, tea or chocolate, hot or cold – you get a selection of different chocolates. While you sit in the café you can watch how chocolate is made on the other side of the wall size window. You can buy chocolate made of fair trade cocoa to take home from their little shop as well.
Belgians are very proud of their cartoonists, too. Hergé created Tintin, Goscinny and Uderzo made Asterix and Uderzo and Morris published Lucky Luke just to mention few. Comics were also one example in my lecture to show how we understand visual images. Even the illiterate people understand pictures. The local cartoon shop happened to be next to Boon and we made a visit there. This way we covered both famous Belgian phenomena.
Visiting Corda Campus
Tuesday evening we drove to Corda Campus 4 kilometers away from PXL. There we met Mr. Raf Degens, general director, who took us on tour around campus. Corda Campus is built on former Phillips business premises and contains multiple buildings including water tower. Water tower is supposed to be renovated so that there will be a big aquarium and an elevator with transparent walls driving through it into room where all important agreements will be signed.
Corda offers facilities for both students and firms. There are small and big rooms for rent, services like grocery shop, barber, bank and restaurant so you can stay there 24/7 if needed.
Corda INCubator says on their website that it is the place to be for young entrepreneurs in the technology and services industry. They offer office space as well as coaching, supervision and network development. CordaINCubator is not only for student-entrepreneurs of Hogeschool PXL and UHasselt but also for creative, innovative and entrepreneurial minds in Limburg area.  Interior design of Corda reminded me a lot of SAMK new campus in Pori.
Googling forbidden!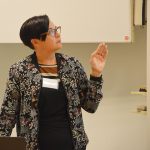 Since I had my other lecture in the morning on Wednesday and no program for afternoon I asked permission from Mrs. Mafalda Eiro (Escola Superior De Comunicação Social) to join her lecture. She has a very energetic lecturing style and she likes to challenge students. She always asks for more and more opinions and makes the students get out of their comfort zone.
Mrs. Eiro started her lecture telling the students why her name is Mafalda. Her father admired cartoonist Quino and his comic strip Mafalda. Cartoon Mafalda looks like real Mafalda. That was a fun detail for me as well, since I have a collection of Mafalda books and am a fan myself!
Mrs. Eiro asked students not to Google but use their brains instead. She gave them few subjects to think about and form their own opinion in 10 minutes. After this we had a very good discussion on corporate citizenship, corporate social responsibility and communication's role in it. Students were wondering what they can do if they work for the company as a communicator and they are asked to give false information to the stakeholders or hold back information. Should they do as they were told or act according to their conscience?
Multicultural meetings at International Café
Students and staff of PXL arranged International Café Thursday evening at their congress building. There I had an opportunity to tell about bachelor's and exchange studies in SAMK. I joined Véronique Huybrechts behind Finland's table. Véronique was lobbing University of Lapland. I also met a Finnish student from ULapland who did her exchange in PXL. There were a lot of Belgian and exchange students going from table to table asking questions and having refreshments. I brought Fazer chocolate with me, it happened to be one of the brands I introduced in my lectures. So the students recognized the brand and get a change to taste Finnish chocolate.
Until we meet again
Organizers were very pleased to have us in PXL and students were happy with the lectures. We all got invited again in 2017. International week will become a yearly event in PXL. Next year will probably have more specified theme. This year was more or less practice – but well done one!
For me this was a very educating experience. I am specialized in visual communication and advertising and it was very productive to discuss with people who are specialized in other ways of communication.
I am looking forward to join International Week again. And as they say in Flanders region – Dank u wel!
---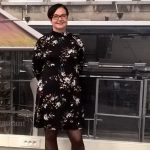 Kirsi Nurmi-Rantanen wors as a senior lecturer at SAMK.