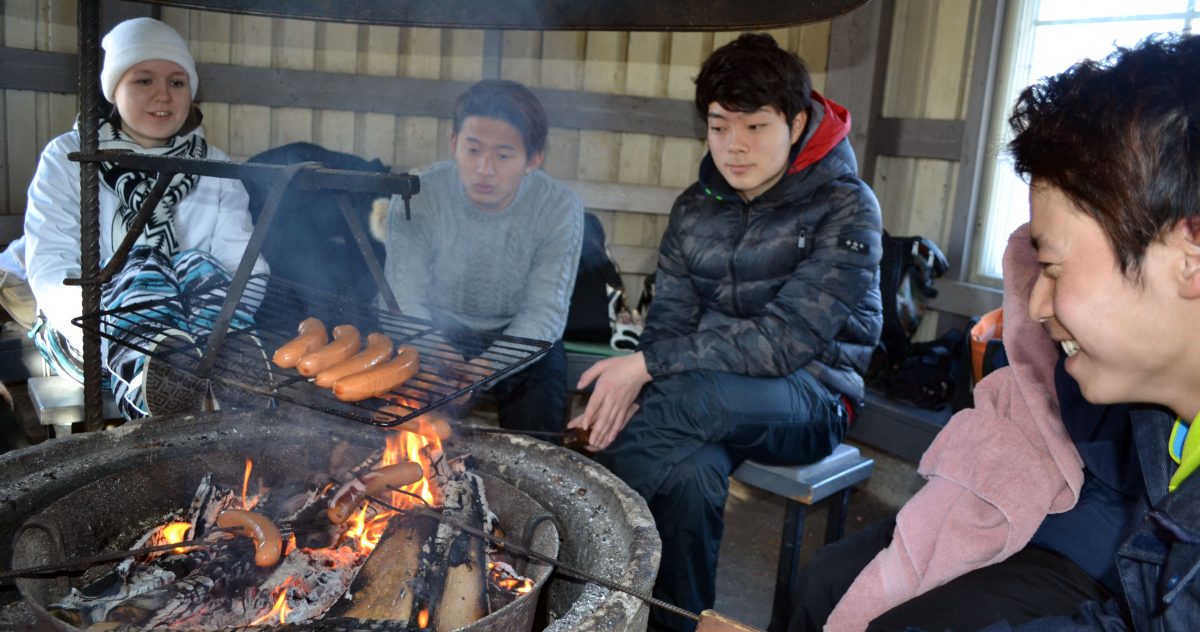 Winter School 2019 is soon here, in Rauma. In this text we look back to the winter school a year ago. The story is written by our students.
SAMK Rauma hosted Winter School 2018 for four Japanese students from Osaka Gakuin University, Japan. Winter School was held in cooperation of Haaga-Helia University of Applied Sciences, Helsinki. The students spent one week in Rauma (24.2.-3.3.2018). It was an interesting experience all-around for both parties and the week flew by accompanied by unexpected experiences and turns.
Day one was full of sports
First,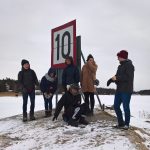 we went to see a Finnish baseball match, and after that we went to Merijakamo to take a stroll on ice. The Japanese students experienced Finnish winter at its fullest: cold, crisp wind, ice, snow, skiing, and ice fishing. Our stroll was a rather short one though and we later warmed ourselves up at our local Finnish fast food restaurant Hesburger!
Amazingly, the students were excited about Citymarket. We spent at least 20 minutes at the toy aisle, and marveling at the vast selection of different candies. Finally, we went to see a floorball match and ended the day on a good, although busy note.
Day two we started with lessons on Finnish culture and language
We learned about the similarities of Finnish and Japanese. We also visited the Maritime campus at Rauma, and the Japanese students got introduced to simulators and attained general knowledge about navigation and the systems involved in it. We had pizza for dinner, and the Japanese students were quite shocked to see how enormous the pizzas in Finland were!
After pizza, we attended a Japanese class at Adult Education Center to give our guests a taste of Finnish students learning the Osaka Gakuin students' native tongue.
Day three was too cold for our original plan
Day three was too cold for our original plan, which was winter fun, so we decided to bake apple pie and relax. It was delicious! After baking, we spent the afternoon having a little trip to the local mall.
Day four  we spent outdoors
Day four, however, we spent outdoors. First, we had a tour in Old Rauma. After visiting church and museum, we continued our trip to Latumaja, where we had fun in Finnish style.
This was the first time the Japanese students tried sled hill and pole sled with some slight mishaps. After that, we warmed up in a hut grilling sausages and drinking warm berry juice. We ended the day with swimming and sauna in the pool area of the Maritime campus.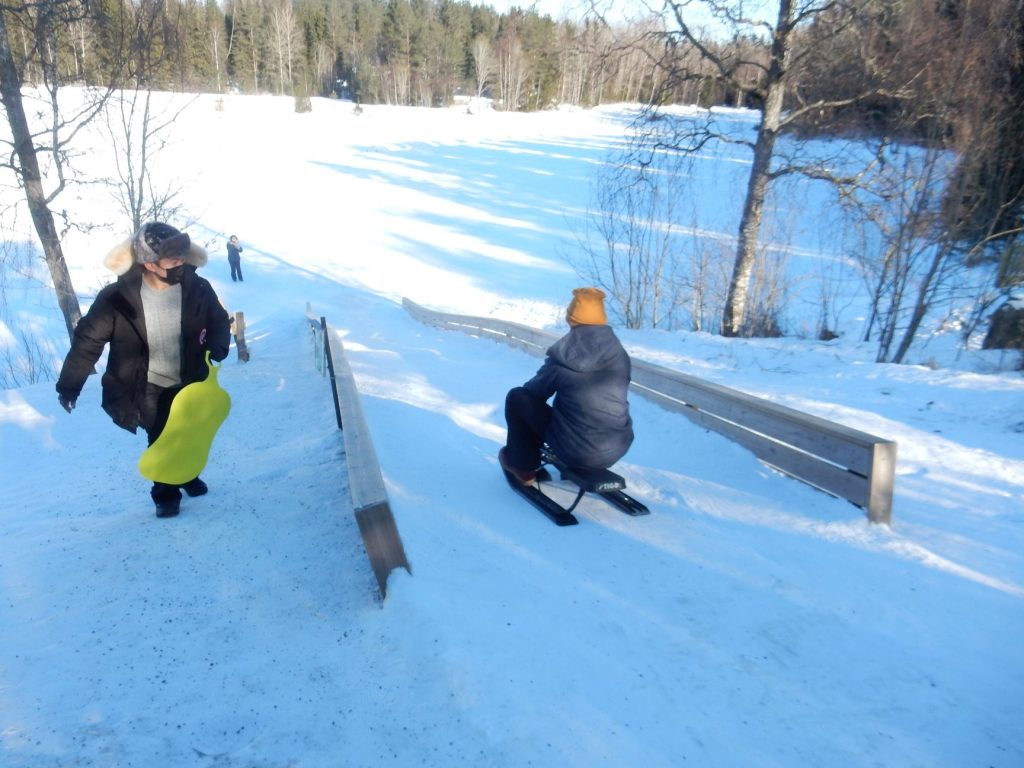 We started the fifth day with bowling
We started the fifth day with bowling soon after we woke up to get in a good mood for the remainder of the day. For lunch, we decided to make some homemade hamburgers for lunch with the leftover ingredients we had. After we were done with lunch and cleaning after ourseleves we headed to Pori; first we visited the Pori Campus and met Pepper the robot!
We were also able to experience VR and many more technical wonders, including 3D printers. In Puuvilla shopping center we managed to pass our time by going out to a Mexican restaurant and splitting up for a short shopping spree, as the Japanese students had seemed fascinated by shopping malls and even general stores. And after rushing against the clock the day climaxed with a hockey game between Ässät and Saipa, accompanied by enthusiastic fans' cheers.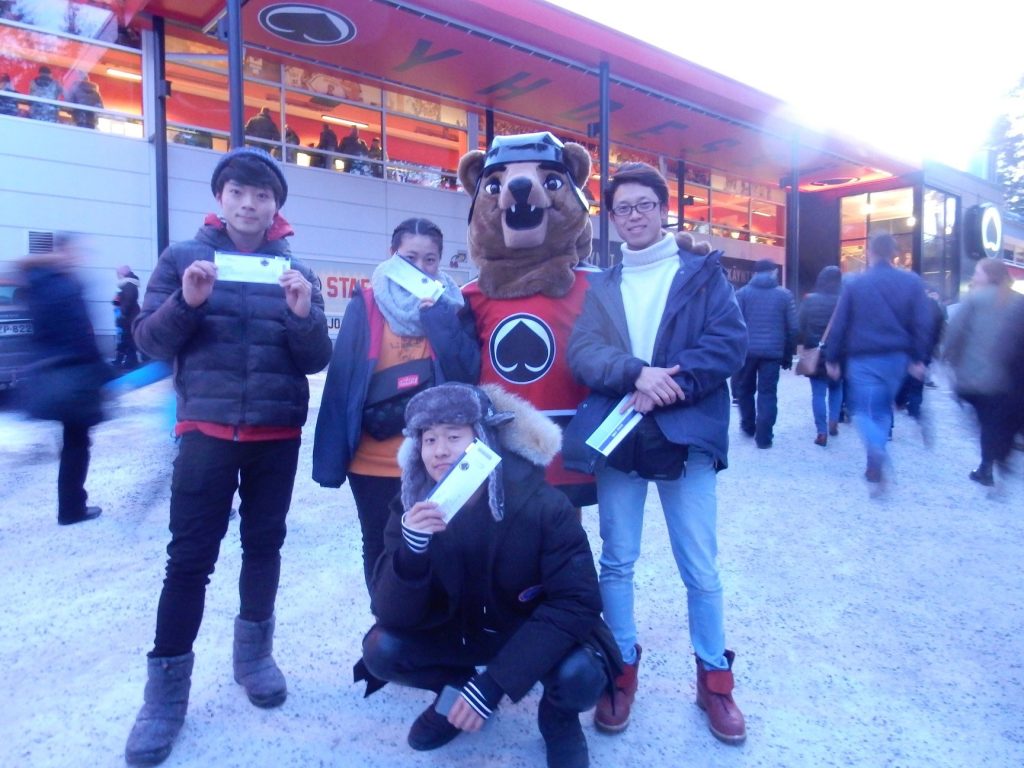 On day six…
On day six, the Japanese students gave us an interesting presentation on Osaka, Japan, and Osaka Gakuin University. After the presentation, we started preparing for the International Night where we were meant to entertain and feed approximately 20 students from different countries. Thankfully nobody came in empty-handed and we managed to experience several different cultures' delicacies.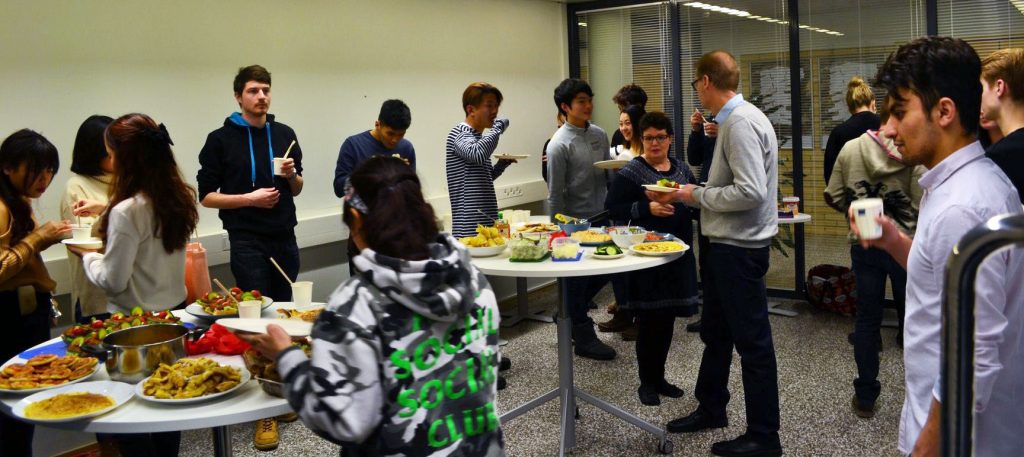 The night proceeded smoothly with party games and sampling multi-cultural treats. Finally, the party ended with the somewhat wacky introduction of a Finnish children's dance "Sutsi satsi". The night was tons of fun and our guests were happy to get to know people from different countries, for example, from Germany, Austria, China, and Vietnam.
The final day came sooner than we had wished
The final day came sooner than we had wished despite the week having been somewhat hectic. We met for the last time at the bus station before the students headed to Helsinki. It was a bit sad that they had to leave, but we promised to see each other again in the future. We hope they enjoyed their trip to Finland and to Rauma under our wing!
We want to thank Hiro, Sae, Shinya, and Kazutaka for coming to Rauma! We had so much fun with you! And, naturally, we look forward to seeing you again!
Katri, Jenna & Jaakko