Oxtail stew in tomato and green pepper sauce, charred lamb chops, grilled chicken, oven-baked salmon, green peas and carrots in coconut sauce, meat and vegetable samosas, traditional Namibian corn side dish called pap accompanied by basmati rice, fresh mixed salad and Namibian flat bread. The dinner at the residence of the Namibian ambassador of Sweden was sumptuous. A real feast for the SME Aisle project team and Namibian business delegation who started their tour around Central Baltic countries on Sunday, November 10 in Stockholm.
His Excellency, Mr. George M. Liswaniso, and his lovely staff showed great hospitality as the SME Aisle SAMK team lead, Dr Minna Keinänen-Toivola, Captain Heikki Koivisto, Ms. Nina Savela and Ms. Jonna Ristolainen from SAMK were kindly invited to this delightful banquet along with five Namibian business representatives, Business Sweden and (official) project partners from Latvia and Estonia. SAMK is the leading partner in the Central Baltic Interreg funded project SME Aisle (2018-2021).
The internationally operating project promotes business between small and medium-sized enterprises (SMEs) and Southern African countries. Namibia promises a great potential as a stable entry point to larger markets in the surrounding countries. It is a small but developing market and therefore open to new businesses. In addition, SAMK has over six years of experience in cooperating with a wide array of stakeholders in Namibia.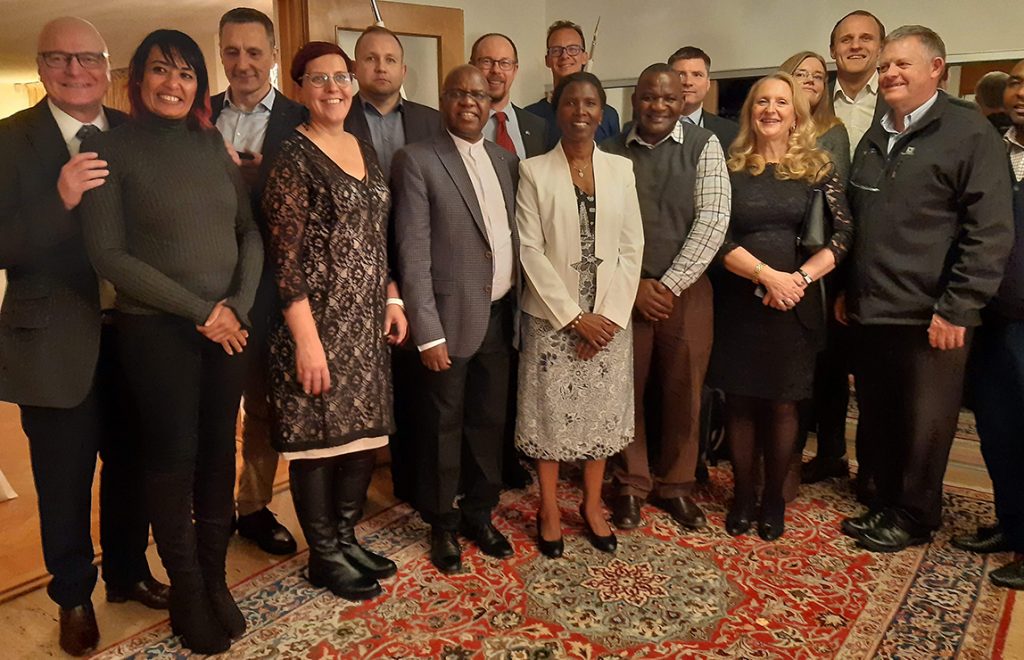 Cosy atmosphere and great business networking
Latvian project partners from MASOC (Association of Mechanical Engineering and Metalworking Industries of Latvia) and LCCI (Latvia Chamber of Commerce and Industry), Project manager Cecilia Leideman-Eyre Bäck from Business Sweden, and Swedish SME representatives were already waiting at the residence as the SME Aisle SAMK team arrived receiving a warm welcome regardless of the delayed arrival of the plane from Turku to Stockholm. Namibian wine was served during the ambassador's speech.
There was time for networking, and the cosy atmosphere encouraged mingling and getting acquainted with the guests. Minna, Heikki and Nina already knew the project partners and some of the business delegation members from their several visits to Namibia. To Jonna, who has only worked for three months in the project, it was a perfect occasion to meet the project partners in person. Names behind email addresses got faces.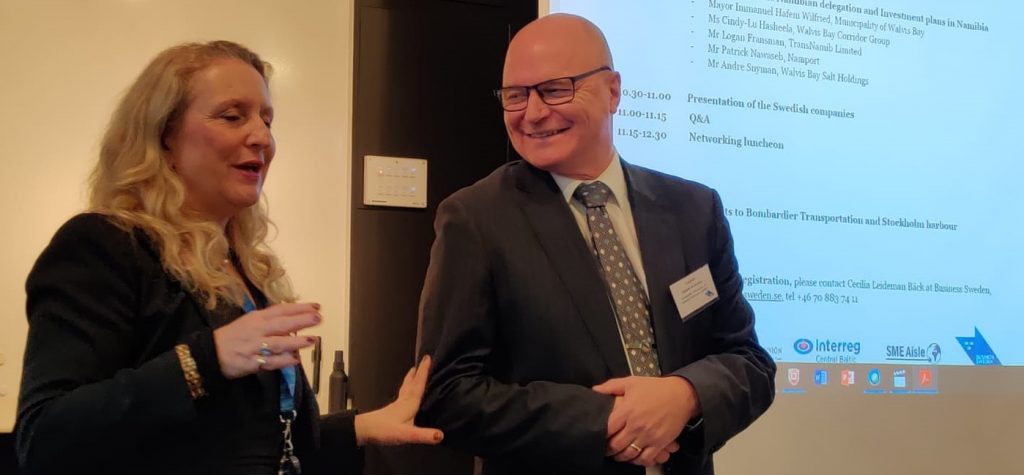 Next day: SME Aisle workshop for Swedish businesses
The following day was more busier. Nina and Cecilia (Business Sweden) had organized a workshop and luncheon in World Trade Center. Namibian businesses from various fields of expertise presented their companies to Swedish businesses and organizations. After a networking lunch (which, by the way was stroganoff and pickled gherkins), the business delegation continued to a site visit at the company Bombardier, specialized in transportation and locomotives.
SME Aisle project team members focused on discussing the administration of the project as well as upcoming events and tasks before starting the journey back home. Business travelling continued for Captain Heikki (as he is known in Namibia) as he accompanied Namibians on M/S Romantika to Riga where they were hosted by MASOC and LCCI. Another workshop with Latvian businesses and site visits was held on Tuesday. Finally, all work and no play is not fun, so the Southern travellers were taken to a KHL ice hockey match. A new experience for many!