We participated in an international course that ended with an intensive week in Merikarvia in May 2022. During the week, we worked with local companies to improve their digital opportunities.
Our commissioner was Merry Camping, which is located in Merikarvia on the island of Brando. It is located 3 km from the center of Merikarvia and offers various types of accommodation such as camping, motorhome and guests can even stay with their motorhome or a caravan. It has a variety of activities to offer such as pedal boats, rowing boats, SUP boards, kayaks, rackets and balls for mini-golf, and an electric and wooden sauna. When we went there, the representative for the place named Anu showed us around the place. She showed us most of the cabins and amenities that they have. When we asked her about what she expected us to work on, she told us to focus on the cabanas that were not selling much and she said to work on them precisely. I think that made our work easier as we knew what we were going for.
We started the project by learning about and visiting the commissioners in their locations. We had a tour around the Merry Camping area and we saw the different cottages and accommodation services and possibilities. After the tour, Anu specified the task to be about the new Cabana cabins with fewer spent nights than expected. We started creating ideas of how we should start working to improve their social media. We looked through their Facebook and noticed that they have good quality photos and a well-informed Facebook page. The only thing we noticed that was missing was the street address to the location. Their website was in a developing phase, so we did not really focus on that. With their Instagram, we had much more ideas to develop it and that is where we put the most of our effort as well. With Instagram, we created the posts and stories and also a video to add to the reels. Our group also came up with the idea to improve the Instagram bio and another little bit more technical stuff for the Instagram account. We went to visit Merry Camping to get the photos and film the video. The weather was perfect for the "summer is coming" theme that we had set for this post since the Cabanas are more for summertime use. We did get our work done pretty efficiently and on time for each day to also have enough time to enjoy the fun and relax.
On the last day of the intensive week we had the presentation. In our opinion, we presented it well and got nice feedback. In the end, the process was fun and we really enjoyed working on it.
This project was a good opportunity to develop teamwork skills, meet new people and work with real companies. We were divided into mixed groups so it was interesting to work together with different nationalities. Our group members were Helena from Finland, Silvia from Estonia, and Kashish from India.
Merry Camping is a cool place with many possibilities and things to do. Their webpage has all of the information needed with great pictures, but we saw awesome opportunities in creating content for their Instagram.
In our project, we also faced some challenges. The most difficult challenge was that we did not get to meet our commissioner personally. We had Anu, who works for them to show us around and tell us the tasks they wanted us to focus on. We had quite free hands to be creative, but we still missed the commissioner's own point of view. The other challenge that affected our work was the fact that all the activities for summer were not prepared yet. We did not have access to the summer activities such as minigolf, sup- boards, pedal boats, etc. There were also some scheduling issues so, in the end, we were unable to use or take photos or videos about the activities while in use.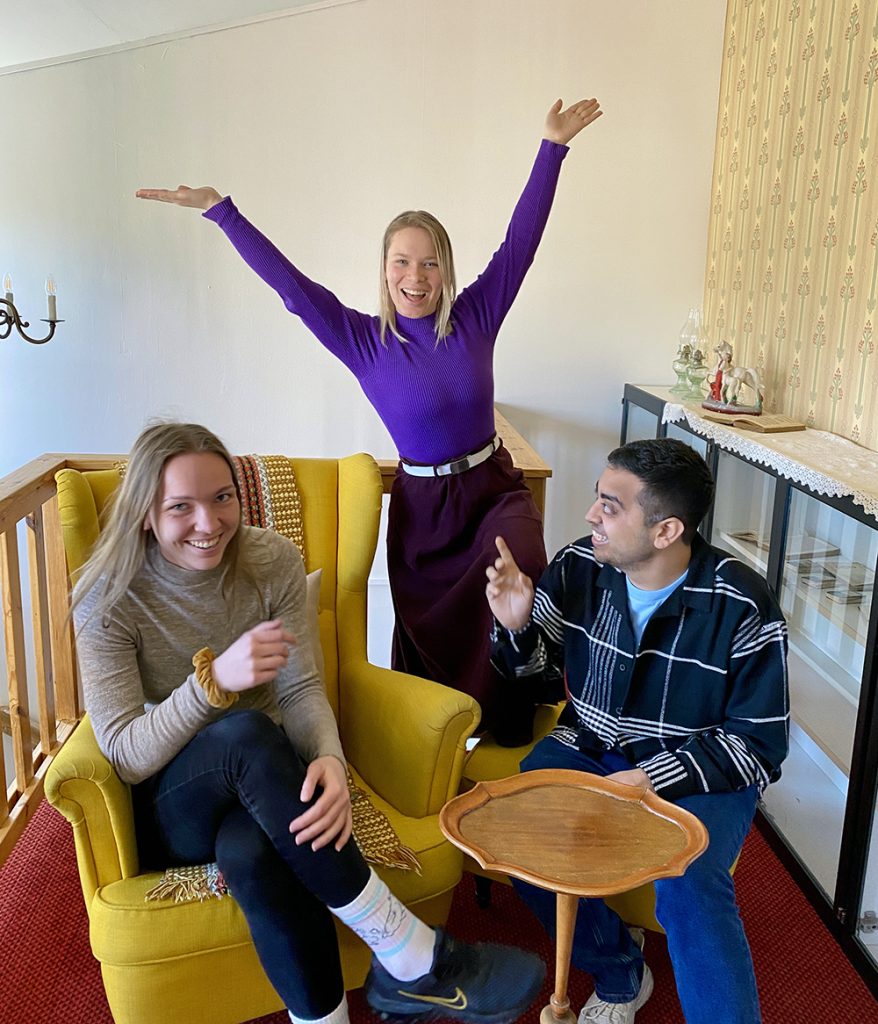 Text: Silvia Pertens, TalTech University & Kashish Gosain, SAMK & Helena Larilahti Lapland UAS
Images: Silvia Pertens and Helena Larilahti